Doug Ramsey recently announced that Dennis Irwin, bassist for the Vanguard Orchestra and Matt Wilson's Arts and Crafts, among others, has cancer and does not have the insurance to cover it.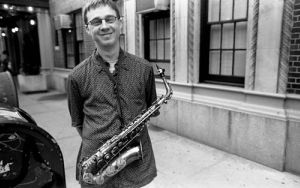 This is an issue facing many professional musicians (and many Americans in general), who work as independent contractors and cannot afford health insurance premiums. Do any readers know of organizations specializing in artist healthcare?
There are several benefits happening in Irwin's behalf:
Friends and admirers are organizing a series of benefits for him, beginning next Sunday following the Super Bowl. It will begin at 10 pm at the Lower Manhattan jazz club called Smalls, 10th Street and Seventh Avenue, just down the street from the Village Vanguard. Musicians are encouraged to sit in. For information, go to this page at the Smalls web site and scroll down to February 3.

There will be an Irwin benefit with the Vanguard Orchestra on Monday, February 18 at the Village Vanguard, 178 Seventh Avenue South.

Tenor saxophonist Joe Lovano is organizing still another benefit for Irwin at Lincoln Center's Allen Room on Monday, March 10. Details are being formulated. Lovano reports that big names will be involved.